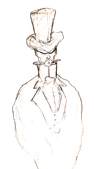 John the Ripper Pro password cracker
John the Ripper is a fast password cracker, currently available for many flavors of Unix, Windows, DOS, BeOS, and OpenVMS. Its primary purpose is to detect weak Unix passwords, although Windows LM hashes and a number of other password hash types are supported as well. John the Ripper is free and Open Source software, distributed primarily in source code form.
John the Ripper Pro builds upon the free John the Ripper to deliver a commercial product better tailored for specific operating systems. It is distributed primarily in the form of "native" packages for the target operating systems.
John the Ripper Pro is currently available for Linux on x86 and x86-64 (x64) systems, with support for the latest Intel and AMD processor features such as SSE2, and for Mac OS X on both Intel and PowerPC Macs, making use of SSE2 and AltiVec acceleration, respectively.
Proceed to John the Ripper Pro homepage for your OS:
Support for certain other operating systems and processor architectures is planned. If your OS is not supported yet, please use the Quick Comment field at the bottom of this web page to request support for your OS; be sure to explicitly indicate your interest in purchasing a copy and license, and provide your e-mail address and desired price. Please note that support for a new OS in Pro versions of John the Ripper may only be added in response to commercial demand. Meanwhile, feel free to explore the cross-platform and free version of John the Ripper.
John the Ripper Pro currently supports the following password hash types (and more are planned):
Traditional DES-based Unix crypt(3) - most commercial Unix systems (Solaris, AIX, ...), Mac OS X 10.2, ancient Linux and *BSD

"bigcrypt" - HP-UX, Tru64 / Digital Unix / OSF/1

BSDI-style extended DES-based crypt(3) - BSD/OS, *BSD (non-default)

FreeBSD-style MD5-based crypt(3) - most Linux, FreeBSD, NetBSD, Cisco IOS, OpenBSD (non-default)

OpenBSD-style Blowfish-based crypt(3) - OpenBSD, some Linux, other *BSD and Solaris 10 (non-default)

Kerberos AFS DES-based hashes

LM (LanMan) DES-based hashes - Windows NT/2000/XP/2003, Mac OS X 10.3

NTLM MD4-based hashes - Windows NT/2000/XP/2003/Vista (new in 1.7.3 Pro)
Mac OS X 10.4+ salted SHA-1 hashes (new in 1.7.3 Pro)
Proceed to John the Ripper Pro for your OS:
Download one of the latest official free versions
Download the latest community-enhanced version: